rooms
Nothing should get between
you and your zzz's. Your
great night's sleep lives here.
Accommodations
Fox Creek, AB Hotel Rooms & Suites
Our guests try us once – and stay with us every time after time. Other Fox Creek Alberta hotels can't compete with our first-rate service, excellent location and clean, spacious rooms packed with all the small touches that really make you feel at home.
On the night shift? No worries. Our rooms come with blackout curtains for a great sleep, no matter what time of day or night. Again and again, we're the best choice for a hotel near Fox Creek pipeline projects.
Come experience the Devonian for yourself!
— Inside Your Room —
Microwave
Mini-fridge
Sink
Free high speed Wi-Fi & wired internet
43" LCD TV with Cable and DVD Player
Desk
Coffee maker & Complimentary coffee & tea
Room Service
Wake-up calls
Multi-line phone
AM/FM alarm clock radio
Electronic keys
Complimentary toiletries
Complimentary additional towels & bedding
Hair dryer
Premium bedding
Iron & ironing board
Sewing kit
Blackout drapes
In-Room voicemail
Rollaway Bed Available ($10 per night)
Pet Friendly Rooms ($10/per pet per night)
Smoking and Non Smoking rooms and suites available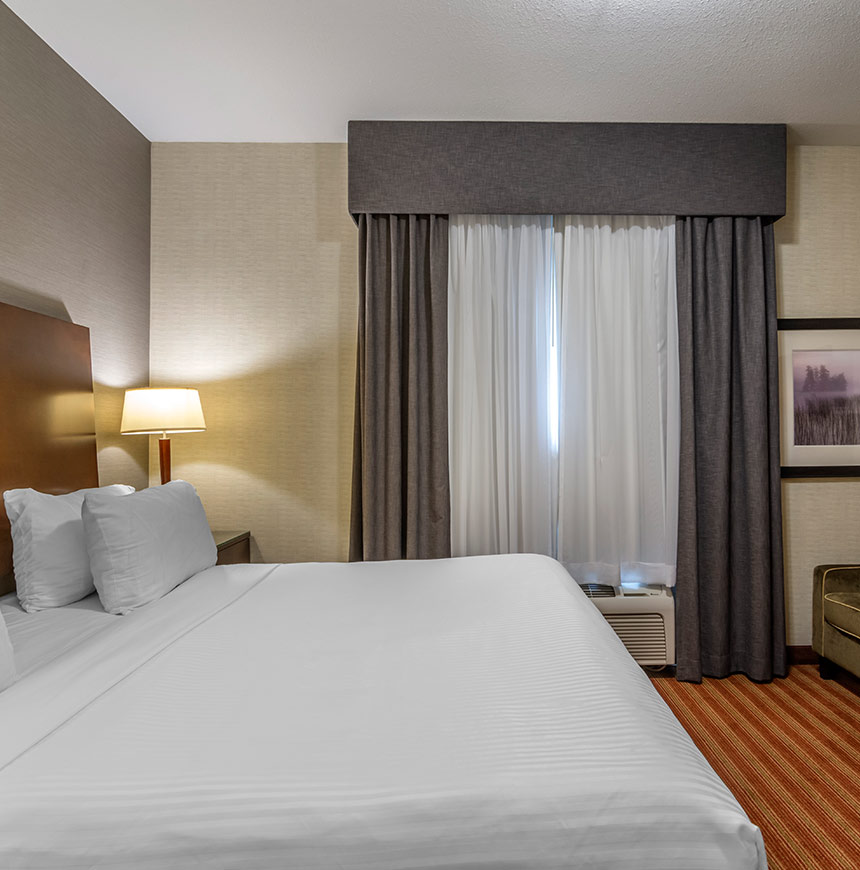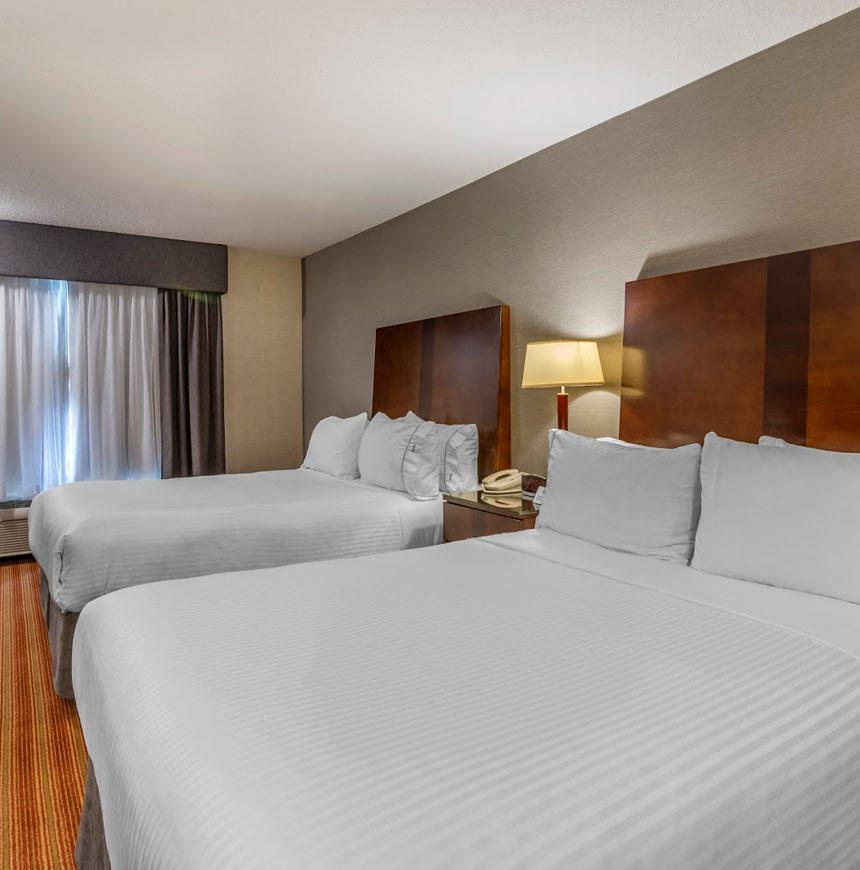 Accommodation
Double Queen Room
This warm and elegant non-smoking room instantly feels like home, with two plush Queen beds fitted with premium linens. The room features a convenient kitchen station with a microwave, mini-fridge and sink for easy snack-prep, plus a 43" LCD TV with cable and a DVD player, free high-speed internet, a coffee maker, complimentary toiletries and more.
Accommodation
Double Queen Kitchenette Room
Designed with families and business travelers top of mind, this large room has all the features you need to prepare your own meals and get a great night's sleep! The two Queen beds are outfitted with premium linen, while the kitchenette room offers a stovetop, microwave, mini-fridge and sink. Includes a 43" LCD TV with cable and a DVD player, free high speed internet, a coffee maker, complimentary toiletries and more.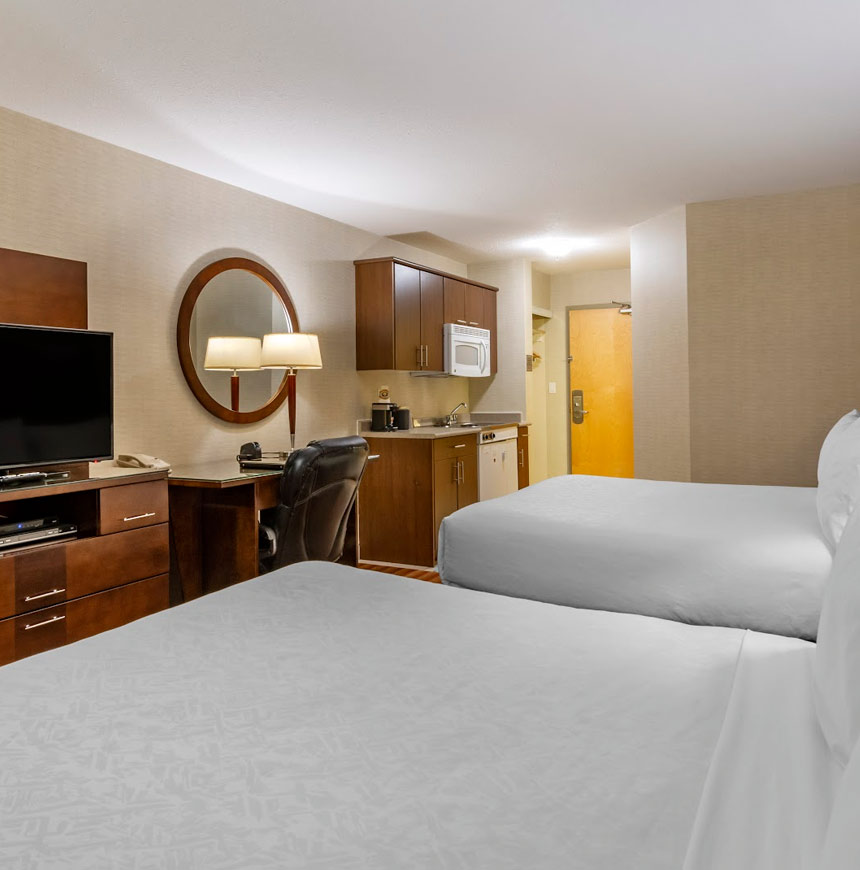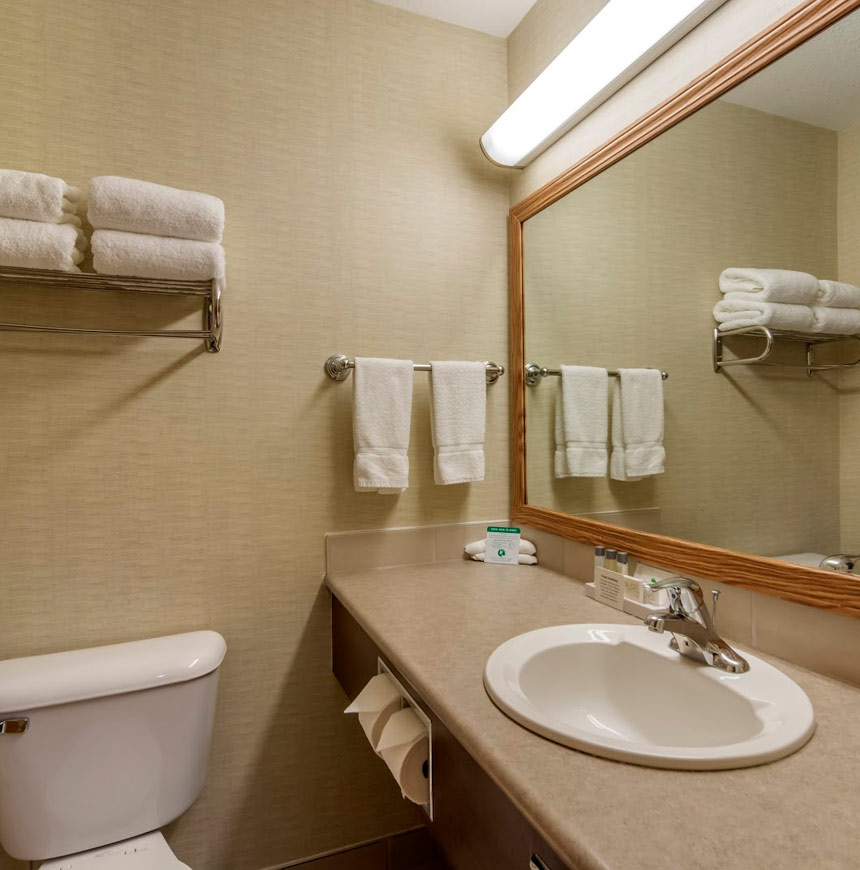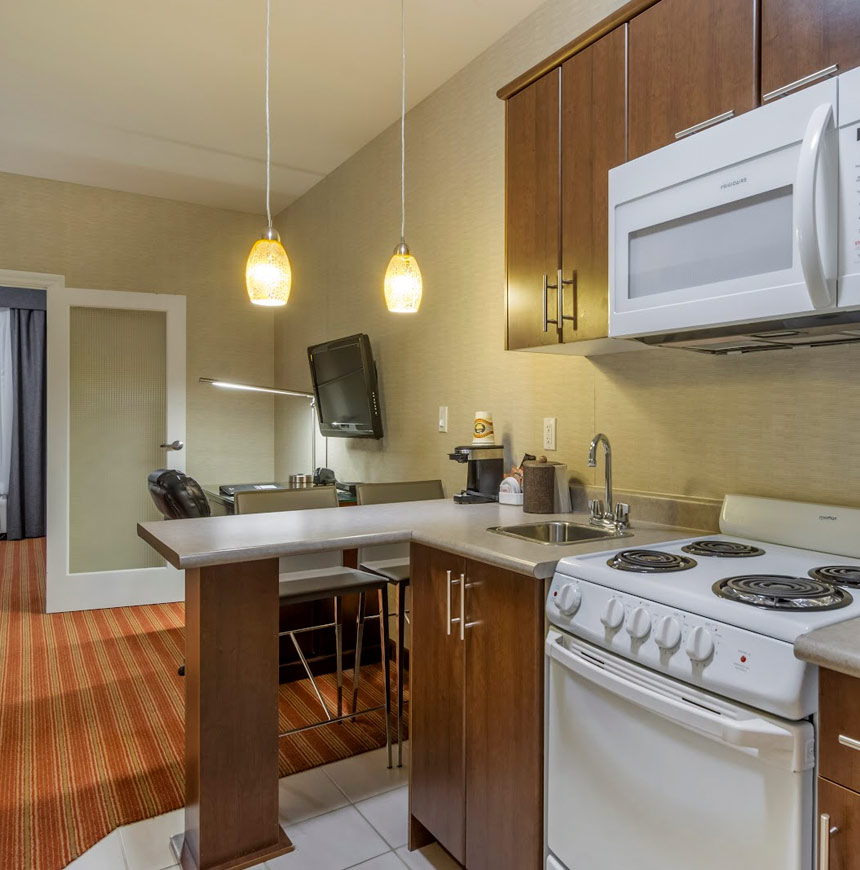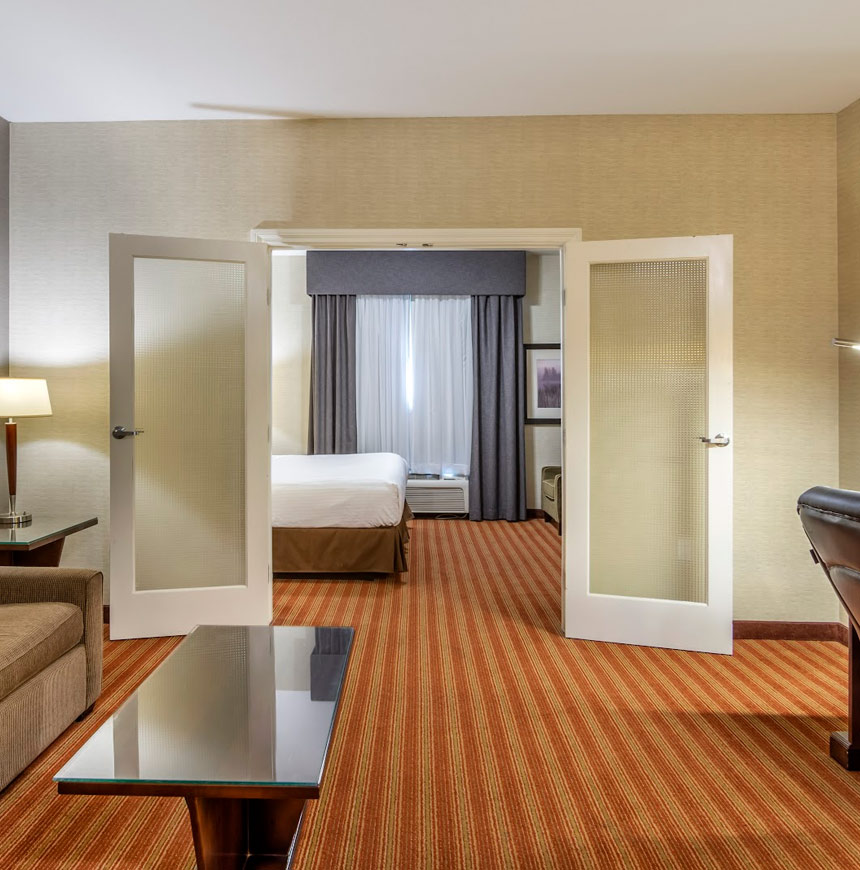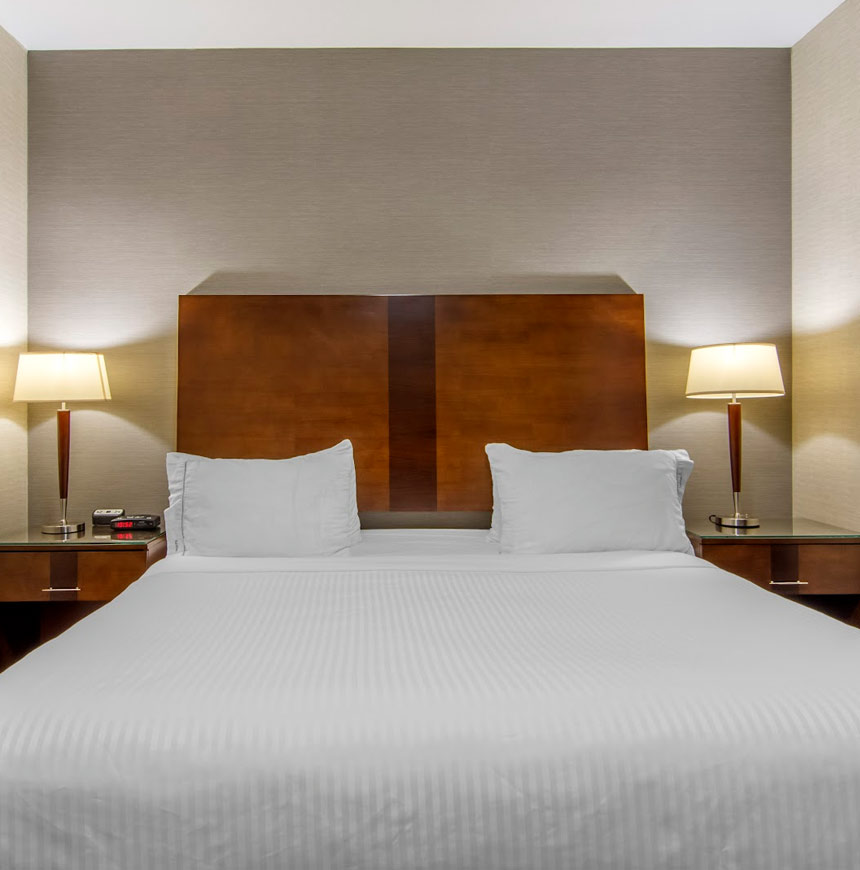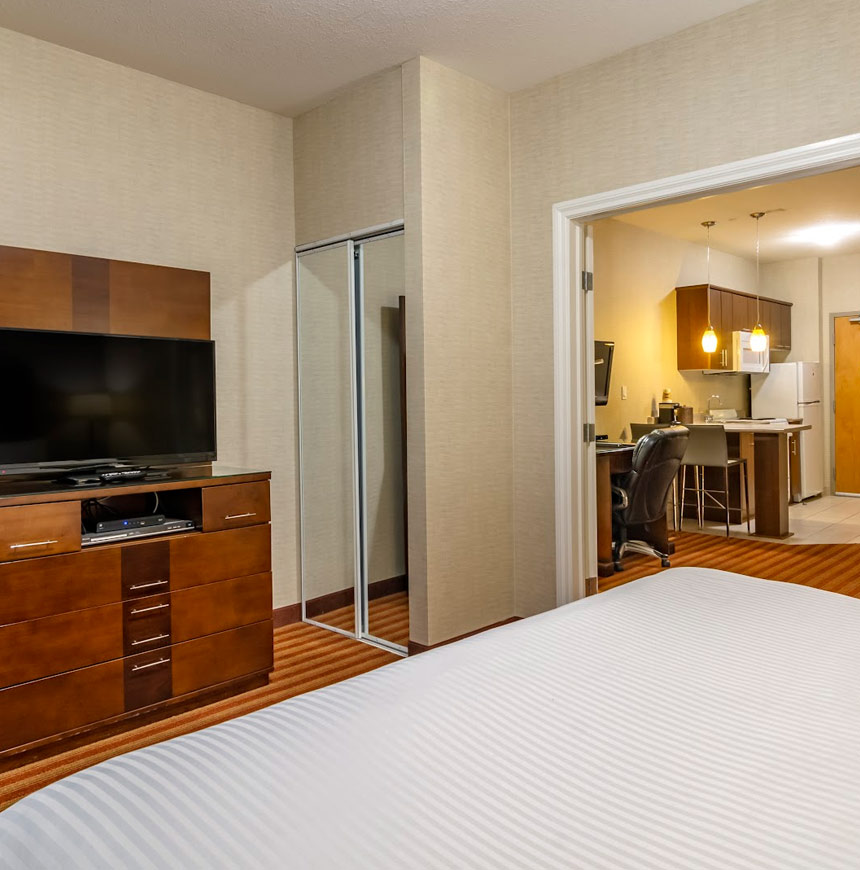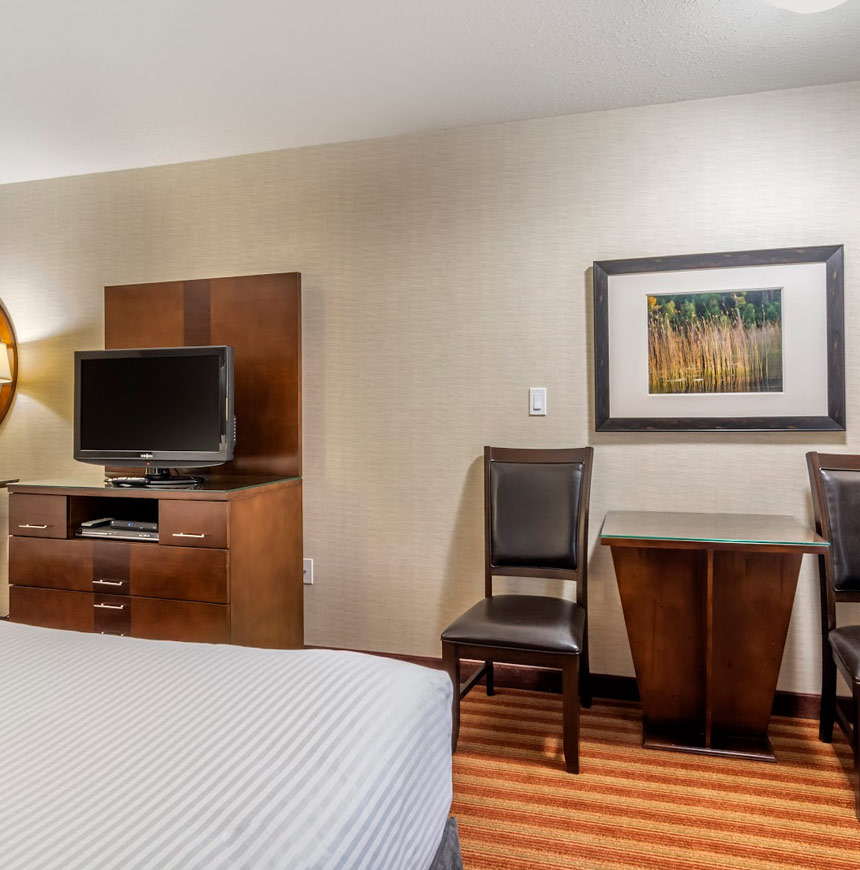 Accommodation
King Suite with Full Kitchen
Fall right into your regular routine in this apartment-style suite, complete with a private bedroom featuring a plush King bed with premium linens. The open-concept kitchen and living area features a desk area, a comfortable couch and 2 43" LCD TVs with cable and DVD player and a breakfast bar. The full kitchen offers an oven and stove, apartment-size fridge, microwave, and sink, and plenty of cupboard and counter space. The suite includes all standard amenities.
Accommodation
Wheelchair Accessible King Room
Our Fox Creek accommodations offer ADA-compliant King suites for guests with disabilities, featuring a roll-in shower and plenty of turn-around space within the spacious suite. Call ahead to book these suites directly, so we can make sure your needs are met.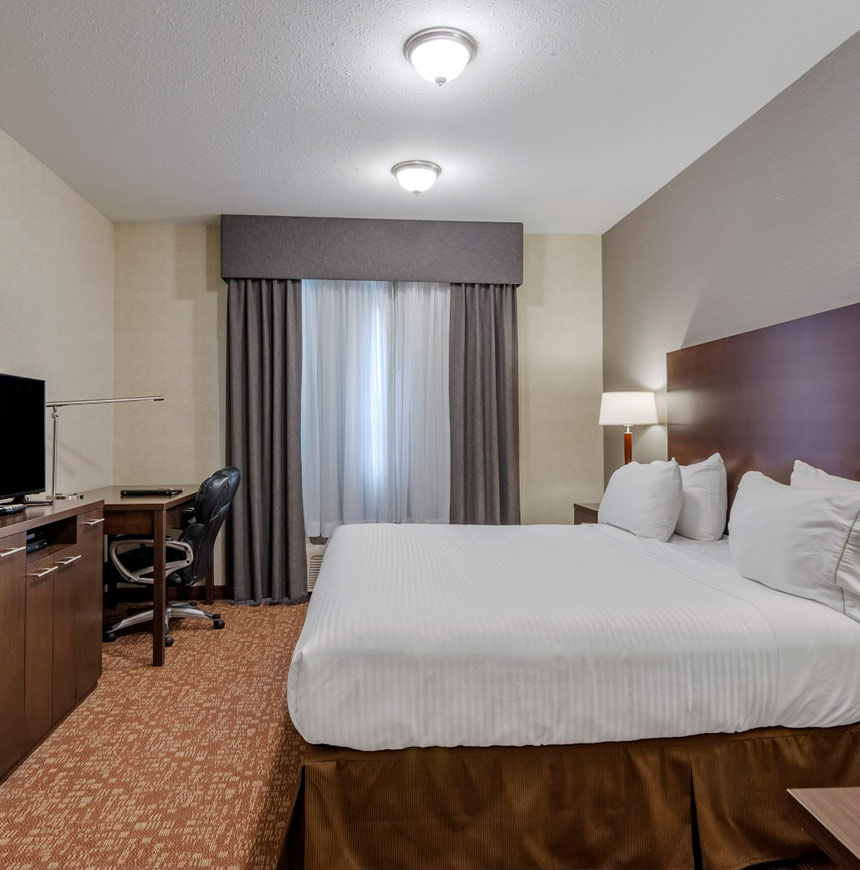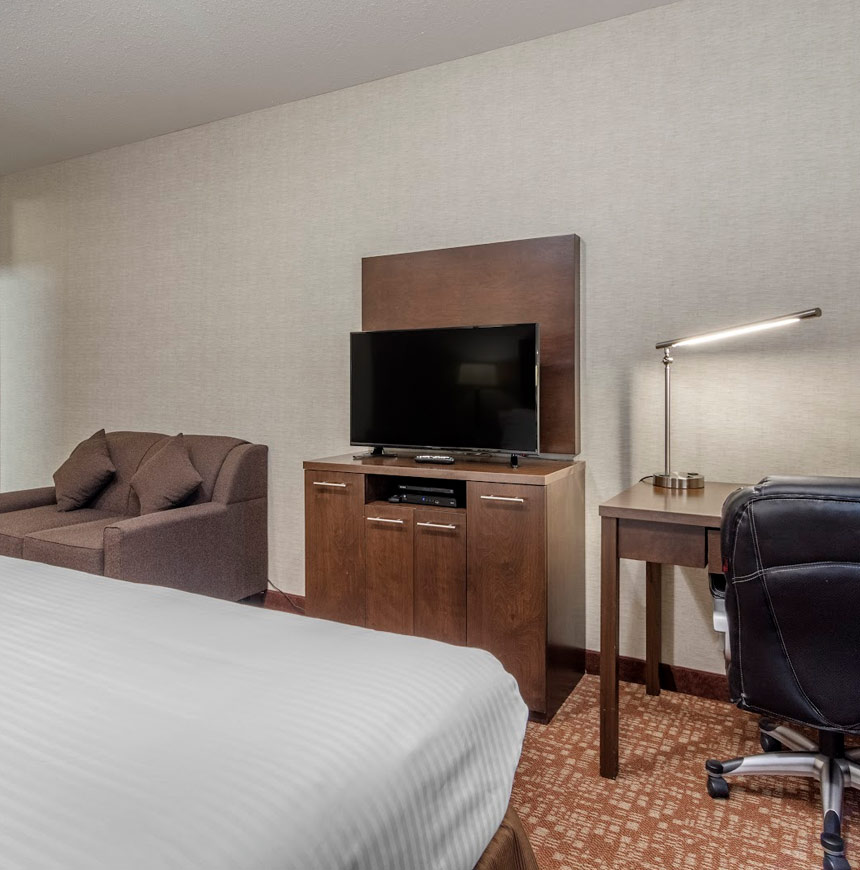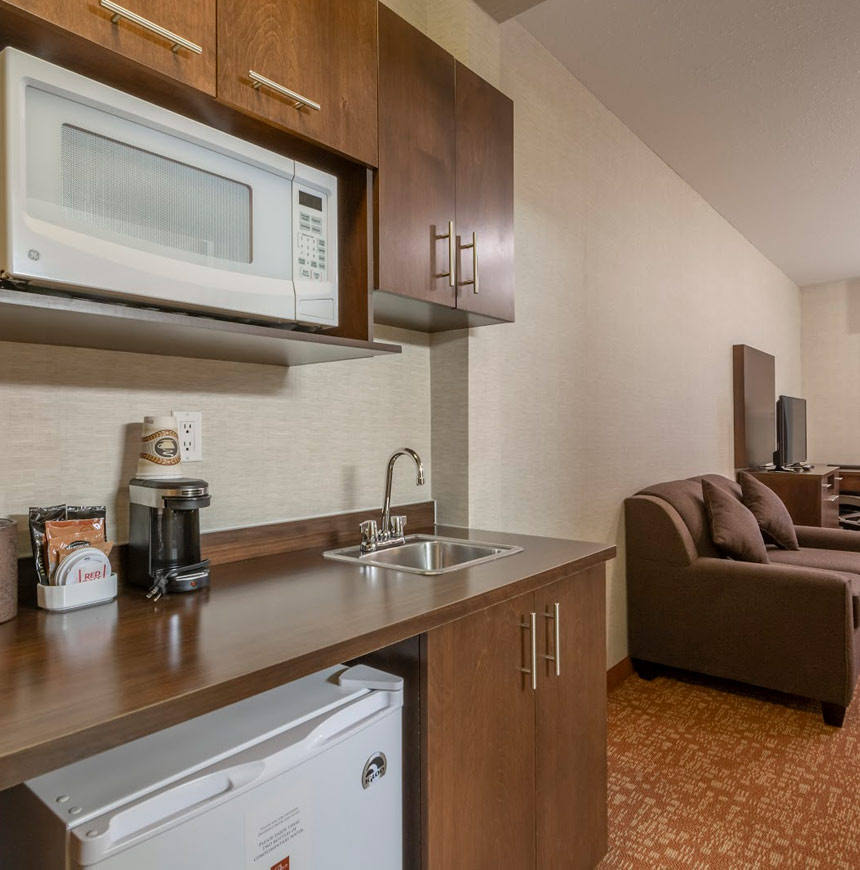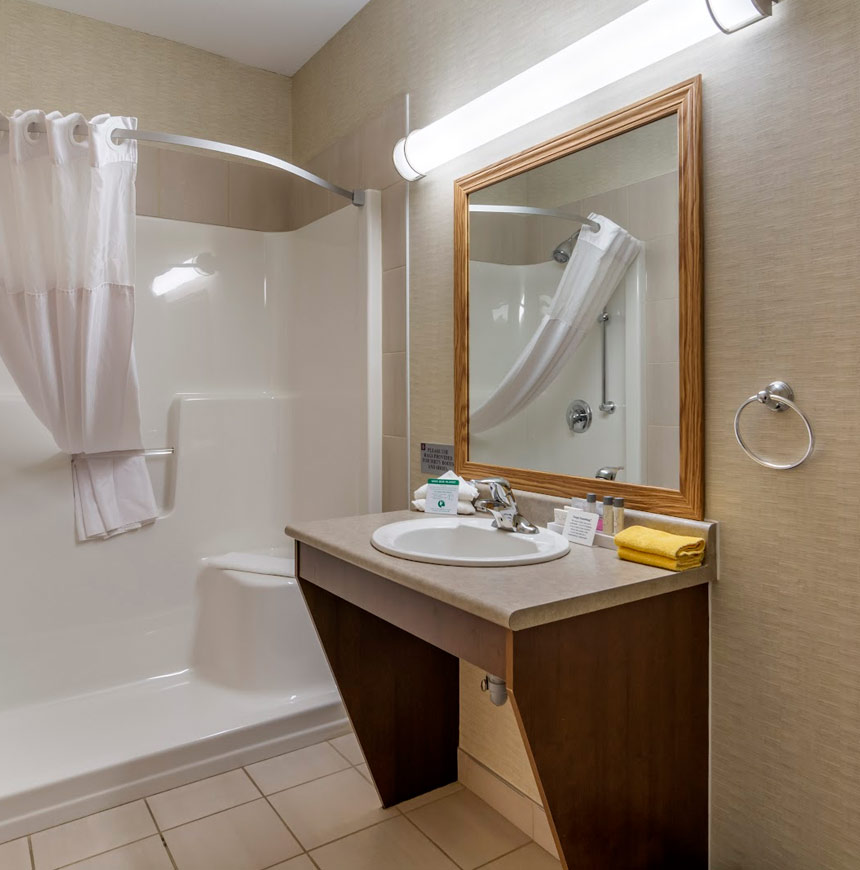 Accommodation
Pet Friendly Accommodations
Bring your pet with you! Our pet-friendly hotel rooms give you plenty of options. Just let us know you're bringing your pet along and we'll make sure you get the room you need, including hotel rooms with kitchens . There is a minimal fee of $10 per pet, per night.
— From Our Happy Guests —
I want to start by saying the staff at this hotel are absolutely phenomenal!! I wish I could name every single person I interacted with because each one of them made my stay special, I will never forget how the staff made me feel. If I could give more stars than five I would. I won't be leaving until the end of the month but I couldn't wait to write a positive A+++++ review on this hotel. You have to stay here if you are in Fox Creek working.
— Christine
— From Our Happy Guests —
My stay at the Devonian Hotel was extremely pleasant and relaxing. The entire hotel staff were very friendly, helpful and professional. The room was clean and beds were comfortable and I felt rested after a good night's sleep. They have an excellent warm breakfast on top of great continental selection. They even have a light hot dinner 7 days a week. The fitness room is well equipped and the onsite laundry and business center made my stay very pleasurable. I look forward to coming back to Fox Creek AB and enjoy another stay at the Devonian.
— Peter M
— From Our Happy Guests —
The service is exceptional. I love how they put phone charging USB ports right beside your bed so you don't have to fumble around trying to plug in your phone. There's two fresh bottles of water in my room every morning which is great because I like to hit the gym after work, and it's nice not to have to worry about getting water. The manager will basically help you with anything. They have hot soup and some kind of cookie or treat every day after work. The rooms are extremely nice and clean, one of the cleanest hotels I've stayed at, and I live my life out of the hotel so that's saying a lot!
— Andrew L
— From Our Happy Guests —
We have come to Fox Creek a few times now to visit my husband while he is working. This hotel is top notch. We get a free breakfast AND light dinner (chilli, jambalaya, stew, garlic bread etc). I have an 8 month old and everyone working here is so kind, they even offer to hold her so I can scoop my food and eat! The rooms are very clean and comfortable. Our biggest perk has been the free wifi and business centre because it allows me to work while we stay as well.
— Sarah M
— From Our Happy Guests —
We stayed here for over a month for work in the area. We couldn't ask for better service, staff was very friendly and helpful and the room and housekeeping staff are absolutely amazing! Beautiful location right in the heart of Fox Creek, wouldn't even consider staying elsewhere when we come back here!
— Emily C
— From Our Happy Guests —
Business brings us to Fox Creek every year. The Devonian is the best hotel to stay at, bar none! The staff are the best. This hotel is one of the cleanest I've ever stayed in and the most comfortable. I wouldn't want to stay anywhere else in Fox Creek, again.
— Callah